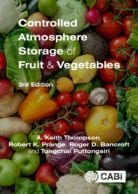 The third edition of this successful title presents current research and commercial uses of controlled atmosphere storage and modified atmosphere packaging of fresh fruit and vegetables to provide a comprehensive and up-to-date overview. New and developed technologies for the transportation and storage of horticultural products are essential to ensure that produce reaches consumers in the best possible condition, and have the potential to reduce the postharvest use of chemicals, reduce losses and maintain nutritional quality and organoleptic characteristics.
Covering the increasingly used science and technology of preserving the freshness of fruit and vegetables in all aspects of their postharvest life, this book puts the subject in the context of its history and current practices, in addition to future prospects. The new edition:
– Explores the large volume of research that is continuously being published on the topic.
– Reviews and evaluates the adaptation and improvement of commercial technologies.
– Considers the effects of techniques and technologies on flavour, quality and physiology, in addition to the damage inflicted by pests, diseases and disorders.
– Contains 5 new chapters covering genetics and CA storage, dynamic CA storage, hyperbaric storage, hypobaric storage and fruit ripening.
Fully revised and presented in full colour throughout, this book is a readily accessible resource for researchers, scientists, growers, students and industry personnel.